Brewing Intuition
Regular price
Sale price
$3.00 USD
Unit price
per
Sale
Sold out
WHAT IS AN INCENSE MATCH?
Exactly what it sounds like! Lights like a match. Burns like incense. Easy to carry and an easy air freshener. Follow the directions inside each book. You light the match let it burn down a ¼ inch and blow it out. Place it in a shallow ashtray and enjoy.

HOW TO USE THE INCENSE MATCH
Strike match away from yourself.
Hold lit match straight up and allow to burn ¼ inch.
Blow out and place in a shallow ashtray or appropriate receptacle.
For best results, do not lay match flat.
French Vanilla        

Smooth, creamy vanilla inspired by the cafés of Paris.
Cinnamon    
The heartwarming and nostalgic aroma of rich spicy stone ground cinnamon.
Oriental Blossom   
A fusion of blossom inspired by the royal gardens of the far east. 
Sandalwood
A sweet, warm, and woody aroma that is sensual and romantic.                     
Rain   
Clean, crisp scent with floral notes. 
Hollyberry   
A softened blend of red, black, and yellow hollyberries with a hint of clove. 
Jasmine        
The exotic blend of freshly cut jasmine flowers. Sweet, exotic and richly floral. 
Patchouli
Get in touch with your inner bohemian with this exotic earthy allure. 
Potpourri     
An eclectic blend of natural scents made up of various flowers and herbs. 
Strawberry  
A single note of fresh strawberries. Sweet and tart. 
Coconut        
A straight and lovely coconut fragrance inspired by memories beyond the pacific. 
Musk
A comfortable and velvety fragrance with a warm, sweet, woody note. 
Goddess of Egypt    
Sultry, warm and feminine. A base of exotic aromas with a hint of flowers. 
Spice 
A delicate blend of carefully selected light spices. 
Bayberry      
A piney natural scent with sweet berry notes. 
Frankincense
This traditional holiday fragrance is deep, smoky and rich.
Share
View full details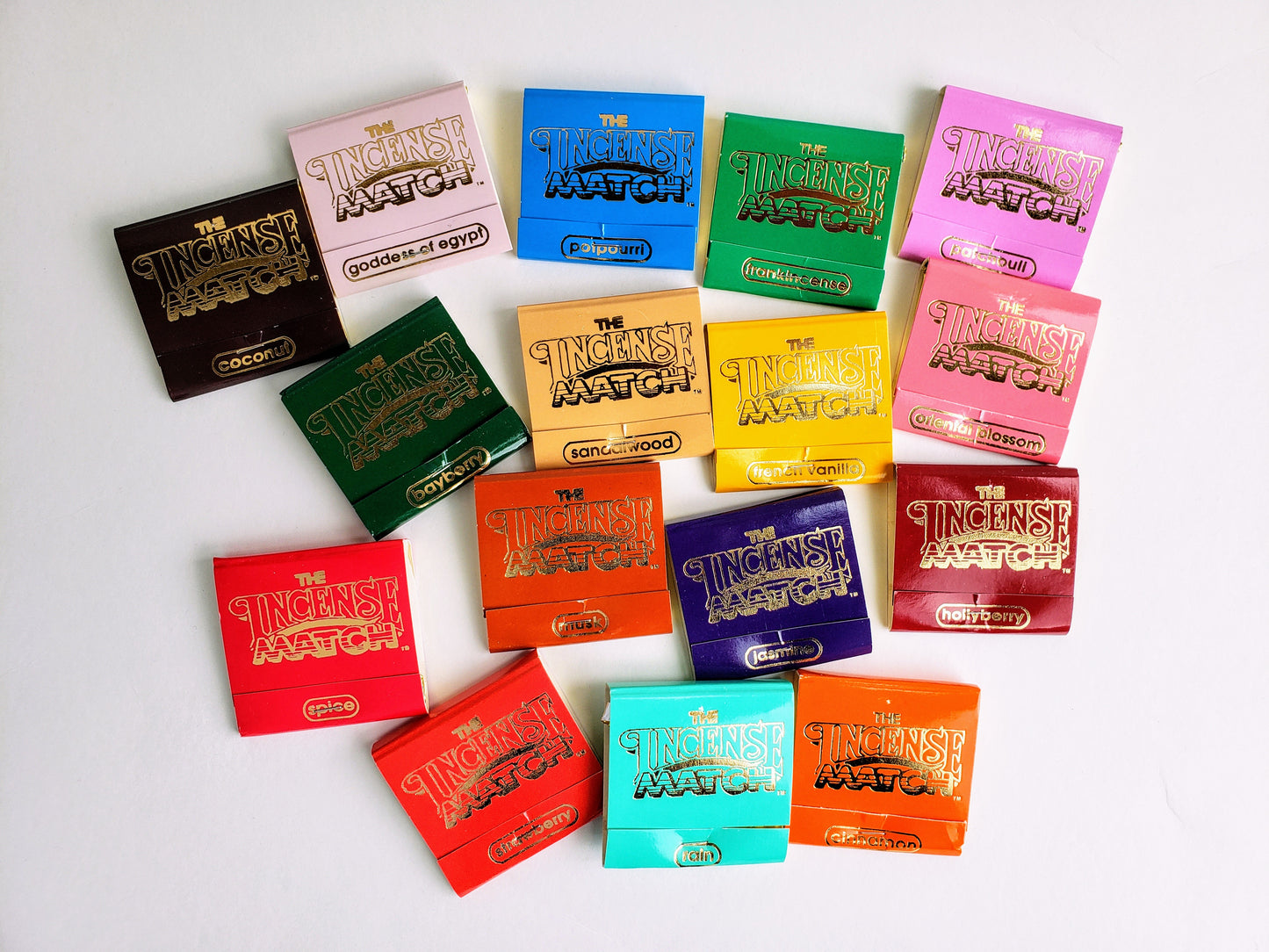 pleasantly surprised
Whoa! What? These little matchbooks are super cool. They provide just enough fragrance and fills the room quickly and since its not a big long stick, it doesn't get to be overwhelming. I bought Sandalwood, Frankincense and Godess of Egypt. The first two I ABSOLUTELY will buy again, The last, Meh, not for me... but that's a personal preference. I still use it to shift the energy in my space, but find the Sandalwood and Frankincense lift me in a way I like more.